While it may seem hard to believe, Geometrik, one of the largest wood ceiling manufacturers on North America's West Coast, started out as a children's furniture shop. The Kelowna-based company was operating in a 3,500 square foot workshop when Vladimir and Natasha Bolshakov purchased it in 2007.
The furniture production was soon phased out to focus on incoming orders for wooden acoustical panels, a craft Vladimir learned in his native country of Ukraine and honed while working in the U.S. for four years before settling in Kelowna.
The shift in business brought exponential growth to Geometrik—they've twice moved to larger manufacturing facilities to keep up with demand. The company's fully customizable and ready-to-install products are now manufactured in an efficient 30,000 square foot factory.

As an active participant in Leadership in Energy and Environmental Design (LEED), Geometrik is focused on reducing or eliminating the environmental impacts of its manufacturing process.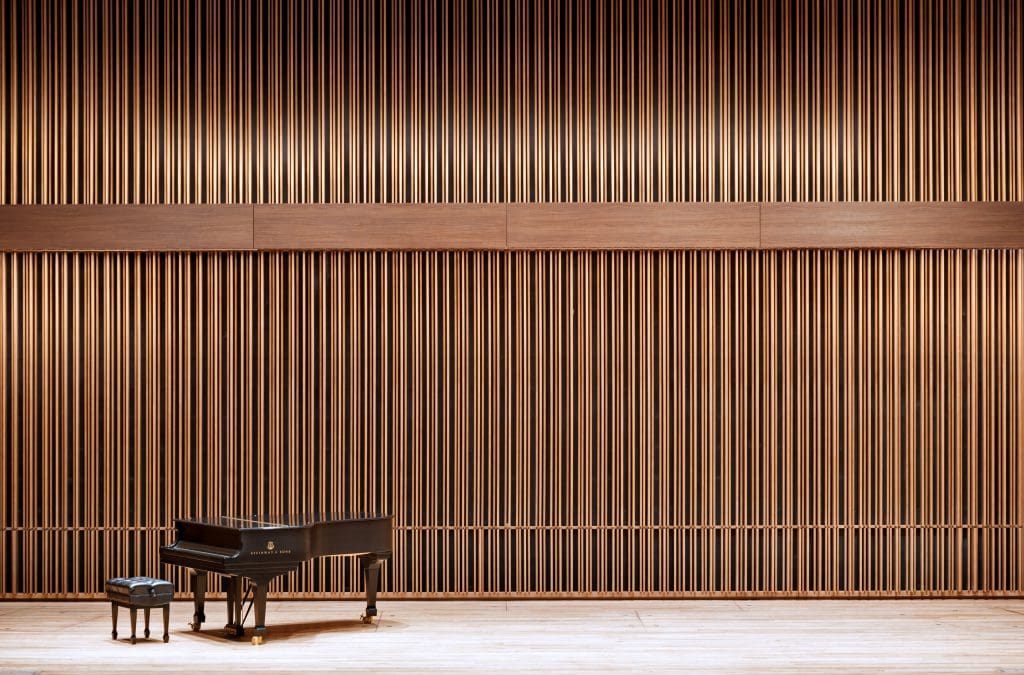 "Our mission is to be a sustainable business—not just by using raw/recyclable materials, but in a broader sense, by providing sustainable employment and sustainable relationships with our suppliers and community," Bolshakov says. "This focus for the last 14 years has resulted in enduring relationships both internally, within our company, and externally with our customers."
This commitment to sustainability, along with Vladimir and Natasha's combined experience in industrial engineering and economics respectively, have been integral to Geometrik's success. Add to that the combination of their talented, highly skilled workforce and leading-edge industry technology, and it's no wonder they've been able to consistently add to their impressive portfolio of projects.
This portfolio includes close-to-home projects like the Okanagan College Center of Excellence and UBCO Teaching and Learning Centre, as well as international projects like the Law building at Stanford University and the Illumina Campus at Lincoln Centre. With their array of completed projects and a continued focus on growth, you just may be admiring Geometrik's work firsthand the next time you're in a building with beautifully designed acoustical panels.
"We fell in love with the Central Okanagan on our first visit in 2007. It was then and there we made the decision to build a company and commitment to the Okanagan Valley."