SKYTRAC's Autonomous Distress Tracking (ADT) was the first GADSS-compliant product to go to market. From there, the Kelowna-based company signed a partnership with Embraer, the third-largest aircraft manufacturer in the world, to add GADSS technology to all new E1 and E2 jets.
This ADT system is just one example of SKYTRAC rising to the challenge for its customers and the industry.
"The reason Embraer selected us was for our superior technical expertise and commitment to quality. We stood out as the only company working with previous years of flight data and aircraft tracking. We were the only company agile enough to meet the rapid timelines required for such a project.
The company was founded in Penticton by a group of experienced aviators who wanted to explore the possibilities of GPS technology being used for non-military purposes. Since its humble beginnings, SKYTRAC has brought to market products in tracking, flight data monitoring, and satellite communications. Their work touches law enforcement, aerial firefighting, emergency medical services, the oil and gas industry, and government sectors.
In addition to its work on GADSS, SKYTRAC partnered with Iridium to offer some of the fastest Low Earth Orbit (LEO) satellite connectivity to manned and unmanned aviation through the Iridium Certus service.
As one can imagine, these game-changing technologies have led to exponential growth for the company. SKYTRAC now has more than 120 employees in its Kelowna, Ottawa, and Victoria offices.
"It has really been a success story going from a startup in a basement to a globally-renowned aviation data company," Manson says.
Even as they have gotten bigger, SKYTRAC keeps the same level of expertise, says Head of Marketing, Reuben Mann. "We're a true all-in-one provider. We don't just give you the box, we give you the connectivity, all the different capabilities. If someone wants a new capability, we're literally creating it for them and going to market with it," he says.
But what makes SKYTRAC unique amongst other large avionic companies is its commitment to the Central Okanagan. Manson himself is a product of Okanagan College. "We're not shipping people in from other markets. We're hiring locally and training people up," he says.
The future of aerospace is fast paced, and the real-world implications are truly lifesaving.
"It is definitely an interesting ride. Buckle up. Every day is exciting and there's always something different," Mann says. "I can't imagine working somewhere else, it's fun and challenging and I feel like we're making a difference."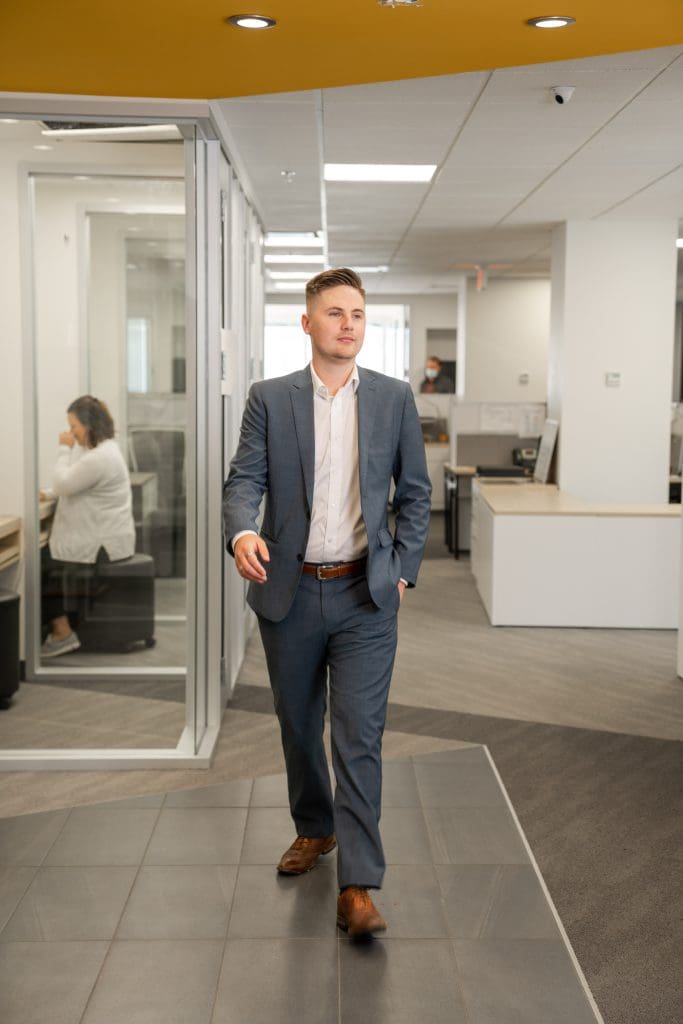 "I've travelled with this company and been to a lot of places. In the Okanagan Valley, there's a culture with the talent we hire that is different from other locales. It's a hidden gem."