Hyper Hippo's success perfectly illustrates the John C. Maxwell-coined term, failing forward. By learning from their mistakes and taking a new, creative approach, Hyper Hippo's team launched its flagship game and set off on an unstoppable growth trajectory.
It started in 2012, when Lance Priebe founded Hyper Hippo after leaving Disney, which had acquired his first Kelowna-based company, Club Penguin, in 2007. Priebe's first venture helped put Kelowna's tech community on the map, as it was still seen as a "remote" community in BC when he launched Club Penguin.
With $5 million in startup capital for his new venture, Priebe and the Hyper Hippo team got to work on building Mech Mice, which was slated to include an online game, television show, and more. Six months in, with almost no capital left, it was clear that Mech Mice would not be a success. They learned from their mistakes and Priebe gave the team the freedom to take risks and build anything they wanted over the following six months.
Through this process, AdVenture Capitalist was created and successfully launched in 2015. Seven years later, the idle game (sometimes called clicker or incremental games) has been downloaded more than 50 million times and is one of the most successful mobile titles ever released.
Hyper Hippo's presence in Kelowna is one of the reasons that the Central Okanagan is known globally as a digital animation and gaming powerhouse.
"I can walk on Google's campus and say we're from Kelowna, and they say, 'Oh yeah, Hyper Hippo.' We've been very blessed, and it proves that this world from an industry perspective is getting smaller and smaller," says Hyper Hippo's CEO, Sam Fisher, who believes that the biggest key to the company's success is working strategically in a spirit of true partnership. The simple philosophy that guides the company is also key.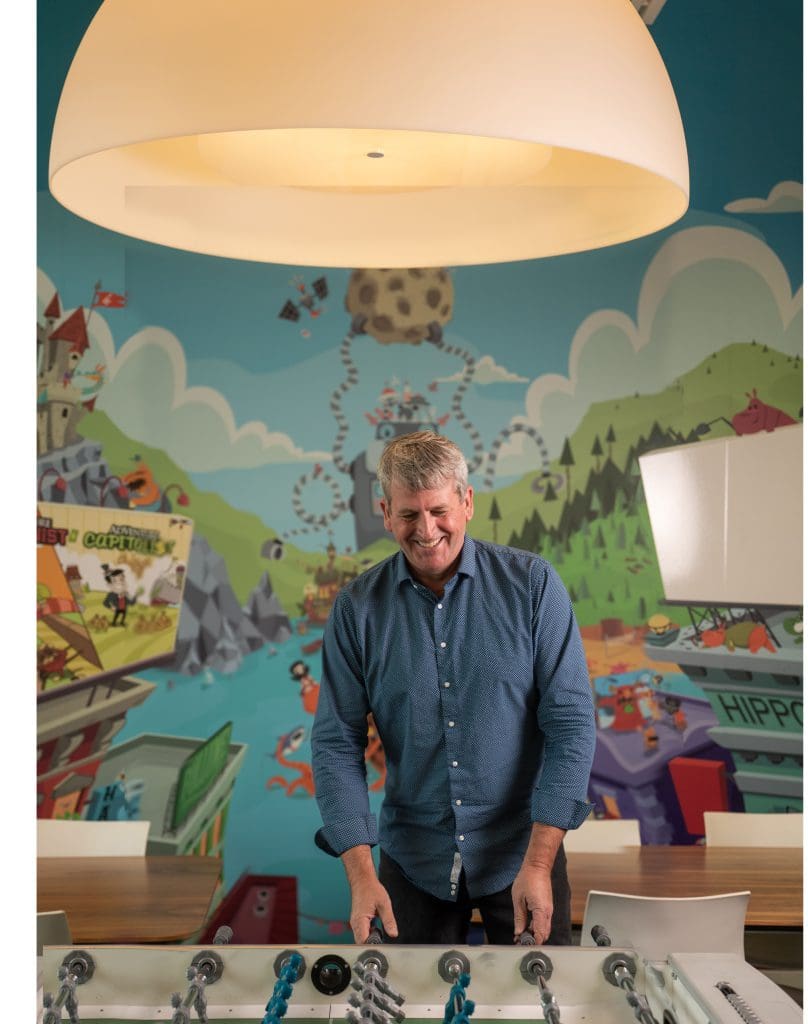 "We're not educators, we're not politicians, we're entertainers," says Fisher. "We bring that little bit of entertainment to your day to make things just a little bit better."
In its quest to attract top talent, Fisher notes that Hyper Hippo has to "take care of the people and give them a good place where they want to be and live. Kelowna is first-class when it comes to that." The company is too, as evidenced by the Best Places to Work award they received in 2021 from gamesindustry.biz.
Most recently, Hyper Hippo launched Dungeon Dwarves, its first idle game on Netflix, which is currently available in 15 languages in more than 190 countries across the globe; 14 new languages will be available in an upcoming release.

"This is a fantastic opportunity for us to collaborate with a team who clearly loves games as much as we do and who support our vision of entertaining and inspiring players around the world," said Priebe in a press release for the game's launch.
Based on their track record, it's likely gaming history will continue to be made by Hyper Hippo for years to come.
"You're always working with new trends, new technology, new people, and new players [in gaming]. It doesn't matter how established you are, you gotta be scrappy. Our focus is on how we get things done."