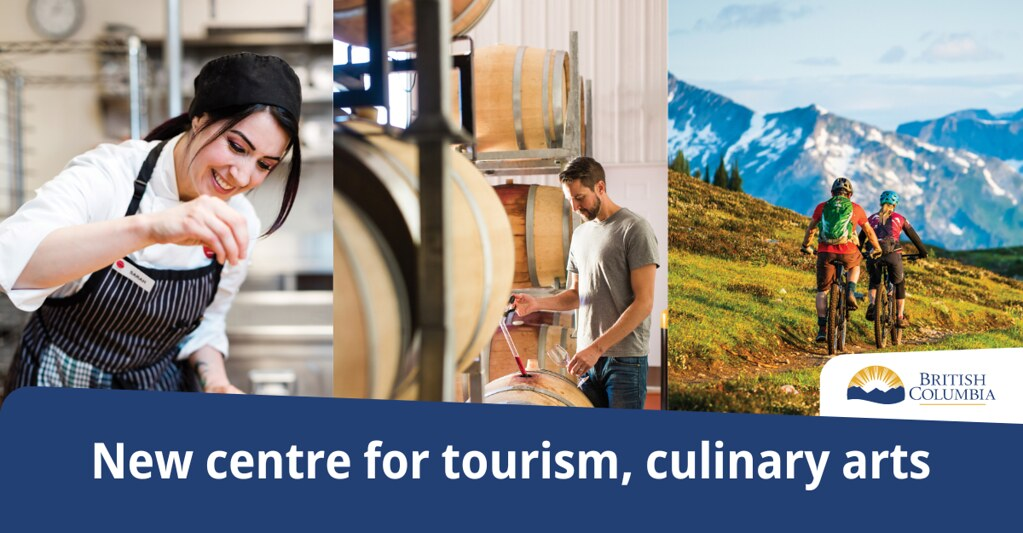 Students and B.C.'s food industry will benefit from the new Centre for Food, Wine and Tourism once it opens on the Okanagan College Kelowna campus, a centrally located school in the heart of wine country.
The centre will focus on addressing the labour shortage in food and tourism, supporting homegrown education in culinary arts, local food and beverage production, and hospitality services.
"The tourism and hospitality sectors are facing challenges in finding and keeping skilled workers, and Okanagan College is a leading provider of culinary and tourism programming in the province," said Selina Robinson, Minister of Post-Secondary Education and Future Skills. "This investment will ensure people can access world-class training supported by industry in the Okanagan, and can then go on to pursue a rewarding, meaningful career in the region's equally outstanding hospitality industry."
The Province is providing Okanagan College with $44.8 million for the new Centre for Food, Wine and Tourism, which will include modern teaching spaces, food labs, beverage research and development facilities, and common spaces. The centre will bring together all food, wine, and tourism programming on campus. It will also be home to the Okanagan Chef School and the college's fully functioning, student-staffed restaurant, Infusions. The new centre will also allow Okanagan College to expand their culinary enrolment by more than 125 students a year, and hospitality and tourism enrolment by 450 students per year.
"Preparing the next generation of local food and beverage leaders is important for securing B.C.'s future in sustainable food production and promoting the Okanagan as a destination for culinary experiences," said Pam Alexis, Minister for Agriculture and Food. "The new Centre for Food, Wine and Tourism will provide students with the knowledge and experience they need for a career that explores and celebrates the possibilities, products and people in B.C.'s farming community."
Okanagan College, with campuses throughout the Okanagan Valley and as far as Revelstoke, has strong connections to sustainable and eco-friendly orchards and farms in the region, providing students with opportunities to learn through farm-to-fork and grape-to-glass practices, teaching the importance of sustainability and local supply chains. The centre will be the first of its kind for collaboration between students and businesses in the food, beverage, hospitality and resort sectors. This will expand opportunities for students to pursue vibrant hospitality careers, as well as help meet projected demand for these skills in the province's growing tourism and hospitality sector.
"The Okanagan Valley is a prime spot for agri-tourism," said Lana Popham, Minister for Tourism, Arts, Culture and Sport. "The Centre for Food, Wine and Tourism will help meet demand for skills in the hospitality and tourism industry ensuring that British Columbia remains a world-class destination for residents and the many visitors looking to return to B.C. for years to come."
Neil Fassina, president, Okanagan College, said: "Being located in the Okanagan Valley, one of the leading food and wine destinations in North America, we are at a competitive advantage to deliver exceptional training and education in food, wine and tourism. Through this centre, we can expand our post-secondary programming and work with partners in new ways that benefit students in their careers, while supporting local and regional business. We are thrilled to be working with government, Indigenous communities and industry partners to continue elevating the Okanagan's reputation as a world-class destination – both for food and beverages, and relevant learning opportunities."
Investing in Okanagan College's new Centre for Food, Wine and Tourism is a part of StrongerBC's Future Ready Plan, which is making education and training more accessible, affordable, and relevant to help businesses grow and prepare British Columbians for the jobs of tomorrow.
A backgrounder follows.
Backgrounders
Facts about the Centre for Food, Wine and Tourism
Construction is expected to begin this year, with the centre opening to students in 2026.
The total cost of the project will be $48.8 million.

Okanagan College will contribute $4 million toward the project, working with Okanagan College Foundation, community and industry partners to meet this commitment.

As part of its food, wine and tourism offerings, Okanagan College will continue to work with Indigenous communities to develop and implement programming that reflects local and regional Indigenous cultures, foods and connection to the land.
The Centre for Food, Wine and Tourism will be a hybrid mass timber building with the project targeting Step 3 of the BC Energy Step Code, the highest attainable level for this building type and occupancy.
The project design will consider accessibility, include gender-neutral washrooms, and target the Rick Hansen Foundation Gold Certification, exceeding B.C.'s Building Accessibility Handbook.
Okanagan College received $71.5 million provincial funding for student housing for campuses in Vernon (100 beds), Salmon Arm (60 beds) and Kelowna (216 beds) as part of a separate project addressing student housing.
Original article posted on BC Gov News available here.